The wonderful team at Virgin Money have partnered with us to bring you Care Home Open Week! We are so excited by this partnership and are equally excited to bring Derek Breingan's story and his journey to becoming their Head of Health & Social Care.
My journey with social care started when I was born and placed in an orphanage. With the help of the authorities, I was eventually adopted by a young couple who wanted to start a family. In my early years I was visited by a carer who regularly checked I was okay. I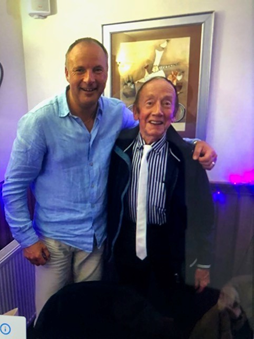 remember that quite clearly because she was really friendly and caring. My Dad is now 85 but still going strong.
Roll on a number of years and social care again comes into my life with my dear Granny B being placed in, at that time, sheltered housing. I really liked the place and the way that the residents had some independence but had a community of similar people around them and a group of really compassionate and friendly care staff keeping them safe. I would sit with them regularly and listen to their stories.

More recently a dear family friend sadly fell to dementia and spent his final years in the care of a local care home which I visited regularly. I have nothing but admiration for the way that people with this deteriorating condition are cared for and how the staff devote themselves to providing the best they can in often difficult and challenging situations. His care team were fabulous.

So I have always had a connection with elderly people as well as children and young people who need some form of care and support. How fortunate for me to then find myself starting to concentrate on the social care sector in my later banking career some 15 years ago.

It is such a privilege to be able to provide advice and financial services to the social care sector. In doing so I, and my colleagues, witness first-hand the huge positive impacts of social care across all age groups throughout the country. The best part of my role is to visit care services and meet staff and residents both old and young. There is nothing more heartwarming than seeing social care at its best in the community.

This sector is a very important part of Virgin Money and is the second-largest sector that the bank provides lending to. We recognise the societal impact and inclusion that social care gives our country and also the number of people who rely on it. Many of our personal customers are employed by the sector as well and so it has a significant part to play in the interests of our business.

We are delighted therefore to be able to contribute to the Championing Social Care charity and to support Care Home Open Week 2021. This in a small way allows us to recognise, celebrate and promote social care and thank its staff, its residents and their families. We need to ensure that the sector is not undervalued and that the real positive impact of it is more widely understood. The events during the week also allow us to say a humble thank you to everyone in the sector for the sacrifices and selfless dedication to care during the last very difficult 15 months.

I look forward to taking part.