After one of our incredible Care Sector's Got Talent auditions were shared online the wonderful Norrms got in touch to tell us a little more about the incredible video of a singing resident who had received an Mp3 player as part of the Purple Angel Campaign.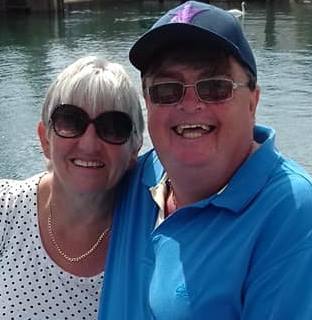 Hello, my name is Norrms Mc Namara and I have dementia, there, I've said it, and will keep on saying it until all understand what living with dementia is like, as I am not ashamed of having this disease? Why should I be? It's no different to any other? Well, apart from its incurable at the moment but hey, as I just said, AT THE MOMENT, which is always important to keep in mind, and it certainly didn't stop me from doing what you are about to read…
I found what was then, the Torbay Dementia Action Alliance which turned into, two years later, "The Purple Angel Dementia Campaign, little did I know then how big it would become. With the incredible support of my family and friends around me, seven years later we are now recognised in over 62+ countries globally, have over 1,200 purple angel dementia ambassador's UK wide and thousands across the world, we have help for the last seven years annually a WRAD (World Rocks Against dementia) where musicians and dementia groups globally get together every year in their own country and put on some kind of a show, or concert or even just a music afternoon where they live to celebrate those we have lost to dementia and those who are living with it. This year we had a record 178 events across the UK and the world despite Covid and hope to have more in the coming years. Next years dates to hold an event for WRAD 2022 is May 21st to May 27th 2022 to include weekdays as well, but we are very flexible if others want to hold it in that month.
Our Motto is inclusion and engagement at every step of the way, and where we think we differ from other`s is most of our work is volunteer-based only and always has been, even in other countries. Not one of us have ever been paid for what we do, we don't have big offices in London or overhead's/wages/expenses etc, we do what we do because we are passionate to help others and all we do for free, we rely on donations from the public and also a few grants we manage to successfully put in for, but those they are far and few between these days.
Our most successful campaign the last few years has been by far our Mp3s that are free for all with dementia in the UK and are uploaded with the music of the person with dementia`s very own choice so to ensure we give them music to listen to that only takes them to a happy place, please see just a little of the feedback we get below, 99% of our feedback is like this!
Hi Norm,
When this lady listened to the music that she had chosen, her face lit up and she kept repeating" Elvis, Elvis, Elvis my favourite." As the time went on AA opened up, at first she sat in the chair and was just moving to the music. After a short period, AA stood up and was dancing and singing along to the songs and ventured down the corridors and into the lounge and dining areas. This gift has made such a difference and opened up a new world for her.
NG didn't think that the MP3 player would be loud enough for her to hear. Well what can I say, when NG first listened she said " I can hear it." her face was a sight to behold, I left her in her room waving her arms about and singing along to "We're all going on a summer holiday!"
JS has poor mobility and struggles to mobilize, but when he used his MP3 player and the song was New York, he was kicking his legs and waving his arms (whilst sitting) something that he struggles with usually.

Penny, Grimsby​ Deputy Manager