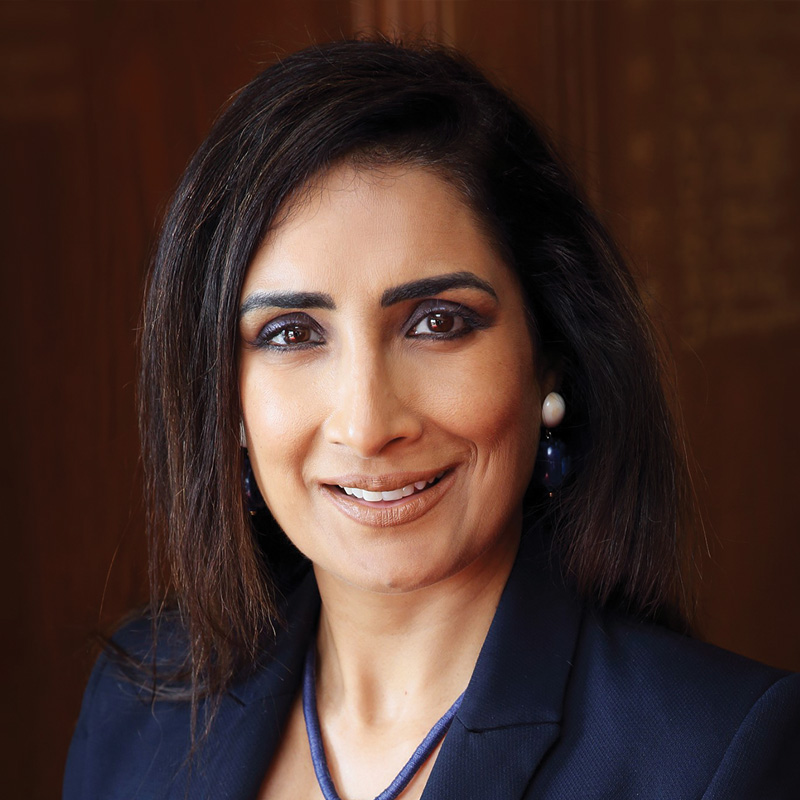 Organising Committee member Anita Goyal writes about her hopes for Championing Social Care, particularly in addressing issues of diversity and inclusion.
As a member of the Organising Committee of the Championing Social Care initiative, I am excited at how we can collaborate as a sector to raise the profile of social care to the next level.
Having organised the previous two sensational Care Sector Fundraising Balls and being part of a team to raise £348,000 for the Care Workers Charity (CWC) and Alzheimer's Research UK in the first year and the Alzheimer's Society in the second year, has been a rewarding experience for me.
My story and link with the care sector began when I met my husband in 2013 and I was introduced to the social care sector through Hallmark Care Homes. Visiting many care homes through the annual Hallmark in Bloom and Hug Day events has enabled me to appreciate the phenomenal work that care teams across the UK are committed to. I became a Trustee of the Care Workers Charity where I learnt about governance and the importance of fundraising to support care workers through hard times. There are approximately two million care workers in the UK and the struggles that they have faced during the pandemic must be recognised. The hardship funds are there to help care workers through financial difficulties. Now, as a Patron of the CWC, I can honestly say that I am hugely proud of the effort that has been made to raise over £2m Emergency COVID-19 Fund since March 2020.
My link with the care sector continued to grow and the Hallmark Care Homes Foundation was set up in January this year and I am equally proud to be a Trustee to help people and communities through funding individuals, organisations and charities within the sector to advance their work or research. This has strengthened our partnership with the Care Workers Charity as well as the Alzheimer's Society. More recently, Avnish and I were appointed as Ambassadors for the Alzheimer's Society.
The area that we are particularly passionate about influencing is prioritising understanding dementia in diverse communities. Research has shown the likelihood of different ethnic groups developing dementia varies. For example, black people are more likely to develop dementia than white people.
We need further research to understand the role of factors that may cause this disparity such as education, literacy, our genes, BMI and discrimination, as well as many other possible environmental, social, cultural, biological and behavioural risk factors that may go on to influence risk of dementia in different populations.
This will be important in how we support people from different communities to reduce their risk of developing dementia and in developing new treatments.
There is much work to be done and it is an honour for me to Chair the Care Sector Fundraising Ball to raise awareness and funds for the Alzheimer's Society and the Care Workers Charity. This annual event has served its intended outcomes and with the support of the sector and other stakeholders, we envisage the growth of this event to make an even bigger difference.
My background in education as a teacher has encouraged me to collaborate with my previous school, Bower Park Academy, to bring students from year 10 studying the BTEC Health and Social Care course into our care home in Billericay, Essex. It has been a wonderfully enlightening partnership where students have learnt how care homes function and take care of their residents. I was thrilled to receive the following comment from their teacher, "I was surprised that so many students contacted me about all of you but pleased at the same time. It shows how important these visits are and the amazing impact it has had on the youngsters. Nearly half of the ones that visited the care home, shared that before their visit, they didn't pay as much attention to their grandparents as they have done since. Which is amazing."
I applaud the passion of their teacher who persevered that these visits into care homes are invaluable to progress the young minds of students. Proceeding this, we were able to partner with the school to deliver Dementia Friends training to almost two hundred students. I think that all students in the UK should be experiencing this from of training to strengthen their understanding of dementia to help them become compassionate members of British society.
Through the network that we have developed, I believe that championing social care will shed light on the positive work that is being implemented. Its purpose is clear and with a great vision that resonates with my values. We have set some enormous goals for the four programmes and though our collaborative approach, we can really raise standards and make a difference.