This thought leadership article is written by Dan Blake, Championing Social Care Ambassador and COO, Florence.

Working in social care may not be for everyone but the reality is most of us and our families will rely on social care for support at some point in our lives. For too long social care has been under-staffed and under-funded.
Every day I meet people who have been working in the social care sector for 20, 30 or even 40+ years. I am a relative rookie and 10 years ago, like many, I didn't really know what social care was myself. I volunteered at a local sheltered housing provider that also ran a small care home. This was my first exposure to the sector, the incredible and diverse people and the critical work they do to support those that need it. All this happens far away from the public eye.
I am by nature a curious person so I asked lots of questions and listened. It was clear to me in 2015 that social care was a late adopter of using technology to help improve efficiencies and outcomes.
I had a day job at the time but it wasn't rewarding or fulfilling. Doing something to support social care was an itch I needed to scratch. I started thinking about how technology could help – I didn't know where, I just knew that I wanted to do something that would help.
Then I met Charles, my now co-founder, who felt the same as me. Charles was a doctor at the time experiencing the day to day struggles of the healthcare system and working locum shifts. We started to put our heads together, and the rest as they say is history!
At Florence we are just getting started. Today we help 1,000s of care providers and 10,000s of care workers connect with each other to fill over 100,000 shift hours every week.
We also have built a free online training portal, Florence Academy, that is aimed at helping support professional development and upskilling of healthcare workers. We are keen to help expand the sector and recently launched a Pathway to Care programme aimed at those with no prior knowledge to get a better understanding of careers in care. Working in care is such a rewarding career, and we are committed to bringing more people into the industry to support this special work.
At Florence our core mission remains to bring technology and innovation to support the amazing health and social care workforce of today and tomorrow, and we won't stop.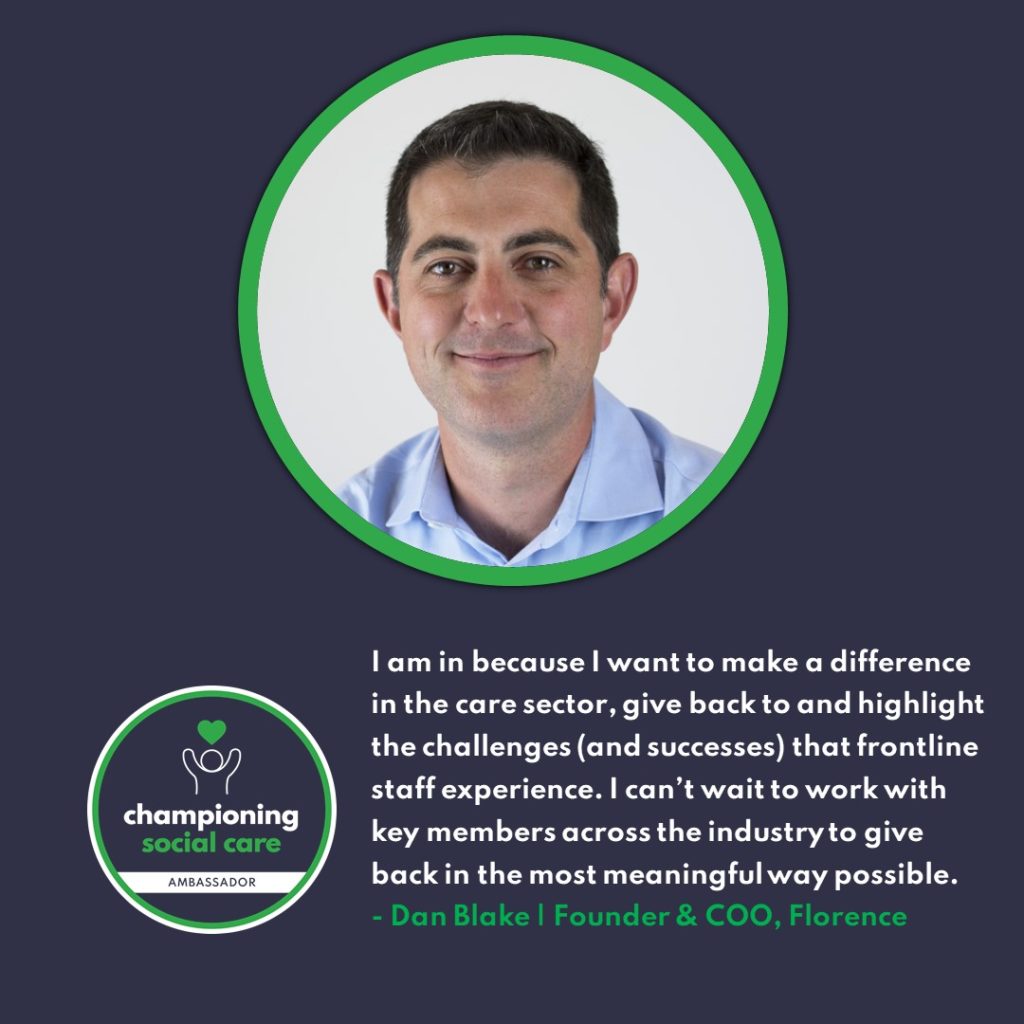 We are delighted to join CSC as a Founding Patron alongside some other incredible patrons. Our aim is to help shine the light on the sector and open peoples' eyes to make sure people know about social care and help people understand the career opportunities available.
There are lots of different roles across social care, from supporting children through to the frail elderly. If anyone is thinking about a career in care or would like to know more then you should go for it. Many people never look back.