Sarabdeep from Hallmark Care Homes wows judges with an incredible dancing performance! 
Tuesday 4th October saw Championing Social Care's fabulous initiative Care Sector's Got Talent (CSGT22) return for its very first live final! Held at the Blue Orange Theatre in Birmingham, eight talented care workers and residents performed live in front of an illustrious panel of specially selected sector judges and a studio audience. They all had the chance to be crowned the Winner of 'Care Sector's Got Talent '22'.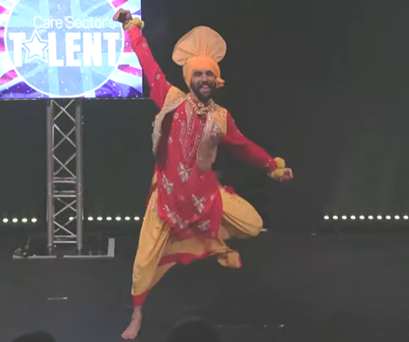 Care Sector's Got Talent has the vision to unite the social care sector and shine a light on the incredible talent of people who work and live within the sector. From pianists to singers and dancers, the talented finalists from across the UK gave incredible performances demonstrating both their passion for care and the diversity of talent in the sector.
Angela Boxall, Host of the live final and Chair of the Care Sector's Got Talent organising committee, commented:
'Last year's Care Sector's Got Talent felt incredibly special, but the joy of the live final really allowed the acts and sector to sparkle. Sarabdeep absolutely wowed our audience and judges who commented on how he dances from the heart! His performance was just wonderful!
It's been a true honour and privilege to get to know this year's contestants and be involved with CSGT22. We are part of a very special sector filled with talented and gifted people, I'm already excited for next year's competition!'
This year's Winner, Sarabdeep from Lakeview Care Home part of the Hallmark Care Home group, said:
'I am on cloud 9! I was very nervous before the competition but thoroughly enjoyed performing on the stage. I am so grateful to the judges, audience and my team and residents at Lakeview for their support.'
Sarabdeep started dancing when he was just nine years old, and since then has performed at many concerts including at the O2, Albert Hall and Buckingham Place for the Queen's Jubilee celebrations.
Ashik Suleiman, Aiysha Rastall, Hannah Chambers, Carol Paulsen Yull, Jean Higgins and Boguslaw (Bob) Wyderka, Rakesh Bhaskaran, and Robert Speker were all shortlisted acts and performed brilliantly on the day, demonstrating the diversity of talent in the sector.
Winning a £500 Love to Shop voucher Sarabdeep will also perform at both the Care Show and Social Care Leadership Awards in Birmingham on the 11th and 12th of October! You can also watch his performance and the full live final by visiting https://www.championingsocialcare.org.uk/care-sectors-got-talent/
Care Sector's Got Talent 2022 was able to go ahead this year due to the generous support of its sponsors, Florence and Tower Fire Group.