This year's Care Home Open Week promises to be phenomenal with more care homes signing up every week. We want to make sure that during the week, we create an opportunity for social care to shout about its incredible work and to provide a truly memorable experience.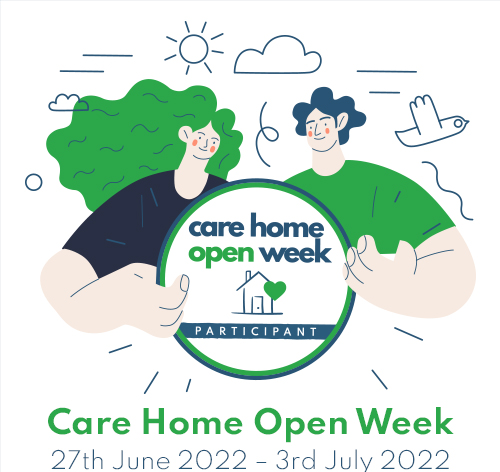 Care Home Open Week will be an amazing opportunity to celebrate our fantastic care homes and to champion the incredible people that work in them – we will also shine a light on those that rely on care and their remarkable resilience.
We are excited to announce support and partnerships with a number of sector groups and associations across the country, that will be supporting Care Home Opening Week 2022. Some of these incredible organisations have shared why they value Care Home Open Week – and are excited to celebrate this significant week in their calendar.
"The Care Home Open Week is a real opportunity for care providers to reconnect with their local communities, and I know that care homes are very anxious to open their doors and showcase their amazing work. I am looking forward to a very successful Care Home Open Week and to seeing the very best of residential services" – Professor Martin Green OBE, Chief Executive, Care England
"There is such creative and important practice taking place every day. Care Home Open Week provides the perfect opportunity to share this practice and connect with local communities. We hope care homes and their partners will get involved in this important and worthwhile event. The NAPA Support Line is here to support them in developing their ideas and planning their 'Care Home Open Week' activities and events." – Hilary Woodhead, Executive Director, NAPA
"After a turbulent few years, where supporting open days has been a challenge for providers, it is a pleasure to be part of Care Home Open Week. We hope that your people will take the opportunity to support their local care services by popping by and meeting the teams who have worked tirelessly to provide care and support for those who need it when they need it. We hope that the majority of care services will be able to welcome you and that you might take a bit of time out to support them." – Nadra Ahmed OBE, Executive Chairman, National Care Association
"Care Home Open week has always been a fantastic initiative to encourage new and wonderful ways to maintain and promote community values and connections within care. Since the pandemic and the isolation and restrictions of the last two years, the need for openness has never been more important. The Institute of Health and Social Care Management are proud to support Care Home Open Week, so that the lives of those living in care may be enriched. Care Home Open Week is also a great time for managers, leaders, our members to learn, to connect and to inspire change." – Adam Purnell MIHSCM, Director of Social Care, Institute of Health and Social Care Management
"Care Home Open week is a much-welcomed opportunity to reconnect with local communities and showcase what good care and support is all about." – Karen Hedge, Deputy CEO, Scottish Care
---
The National Care Forum are proud to support
Care Home Open Week.
---
The good news is there is still time for you to sign up for Care Home Open Week 2022, click here to register your details.