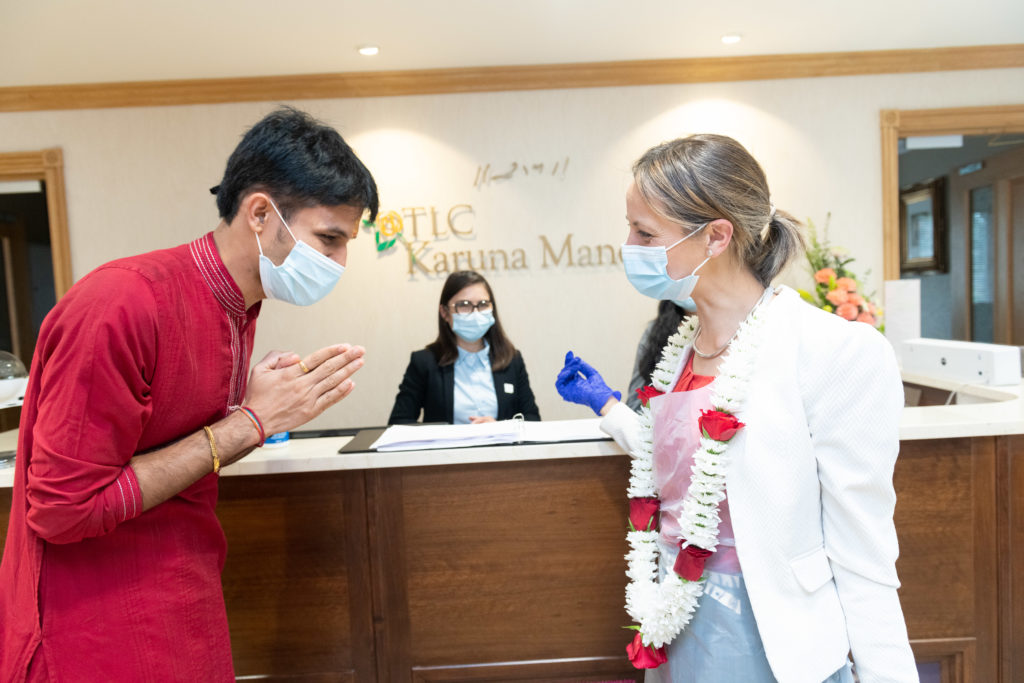 Yesterday, the Minister of Social Care Helen Whately MP made her first visit to a care home since COVID-19 in support of Care Home Open Week.
The Minister's visit to Karuna Manor Care Home in Harrow, London, was allowed to move forward with an intensive COVID-19 safety procedure and a 99% vaccination rate amongst residents. Karuna Manor is one of more than 450 care homes participating in this year's Care Home Open Week.

The Minister took part in a mindfulness session with residents and had a tour of Karuna Manor where she met with key residents, visiting families and care workers in the facility. Minister Whately was welcomed to the care home with traditional floral garland and took home a taste of Karuna from the resident chef.

Care Home Open Week, from June 28th-July 4th, encourages communities to celebrate and thank care workers who remained on the frontline throughout the pandemic and showcase the resilience of the many unique care home residents. Many events held during the week will connect communities to their local care homes through volunteering events or informative discussions about the care sector.
Minister Helen Whately tweeted about her visit, saying:

"Fabulous to visit Karuna Manor Care Home to see what a wonderful job they are doing caring for residents – and to hear from relatives how the care home has kept them in contact during the pandemic. A great way to start Care Home Open Week 2021."
Ruth Kigaa, Karuna Manor Manager, commented:

"Care Home Open Week has brought more excitement to our Home than we could have imagined. We would like to express our gratitude to the TLC team and our friends and family who have shown us continued support during the pandemic. All of us at Karuna Manor are privileged to host Minister Helen Whately into our home and it was wonderful to watch her partake in our mindfulness session with our residents."

Jonathan Freeman, CEO of the CareTech Foundation, Founding Patron of Championing Social Care said:

"Social care is provided in so many settings up and down the country, playing a key role in the fabric of local communities. We are delighted that the Social Care Minister took the opportunity of her visit to the fantastic Karuna Manor Care home in Care Home Open Week to recognise the contribution of care homes and care workers."
Lorna Badrick, COO at TLC Care, commented:

"We are delighted to be in the position to welcome community members back into our homes again with intensive COVID-19 safety measures in place. The work of the Social Care sector is a poignant element to our society and Care Home Open Week has brought excitement back into our TLC family after a difficult year."