Carer Workers and Care Teams across the UK have worked tirelessly throughout the pandemic, Imagination Dance is working hard to support the wellness of Care Workers by getting them dancing, completely for free!
Carers (both professionally and informally), NHS staff, social workers, and many more key workers have been working extremely hard during the COVID-19 pandemic and so here at Imagination Dance we wanted to give something back! Starting a 'Class for Carers' project is something we have wanted to do for a while, and now thanks to funding from the National Lottery Community Fund, it has been realised in the form of 2 virtual classes a week. One evening class and one morning class to accommodate shift work and carers timetables. We are focusing on cardiovascular fitness as well as the creative elements of dance, but we mainly just want our participants to have fun! It's an escape for our participants to spend time doing something for them, and we are so proud to be able to provide something for our participants physical and mental health. One of our participants has kindly written a testimonial about our classes below:

"What a great idea it is to have a dedicated class for carers. So many carers do not look after themselves as all their energy goes into caring for someone else. This helps their mental and physical health. I have thoroughly enjoyed the classes and particularly like having one instructor doing high impact and an assistant instructor doing low impact as everyone can find their own level and work at their own pace. I have benefited from the class in several ways; I have had contact and interaction with a friend who I cannot get out to see, I feel fitter, I enjoy the memories of younger days when I loved to dance! Thank you so very much." – Janice Downing, class participant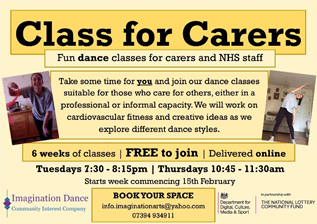 When we are not in COVID-19 lockdown, Imagination Dance provide dance for older people in not only our Movement to Music classes, but in Care Homes, Dementia Services, Parkinson's Support Groups, Residential and Sheltered Housing Schemes and much more. Our classes are always full of fun, laughter and smiles and we put the emphasis on participation rather than performance. Unlike dance companies that work on show pieces and performances, our older people's classes believe that as long as everybody is joining in safely, it doesn't matter if you're Fred Astaire…or have two left feet! We encourage those more reluctant to join in by using music and singing, as well as sensory props and themed classes (around the world/the weather/jobs), to make sure that everybody can relate to and enjoy our sessions.
To join our Class for Carers project, please contact us: moc.o1701779308ohay@1701779308stran1701779308oitan1701779308igami1701779308.ofni1701779308
Thursdays | 10:45 – 11:30
Free to attend!
6 week course | w/c 15th Feb – w/c 22nd March