Championing Social Care has launched an extensive range of resources and activity pack for care home participating in Care Home Open Week (26 June-2 July).
The materials, which include templates to help homes promote their events – such as a template release and an invitation letter to send to local MPs – are available for care homes on Championing Social Care's website.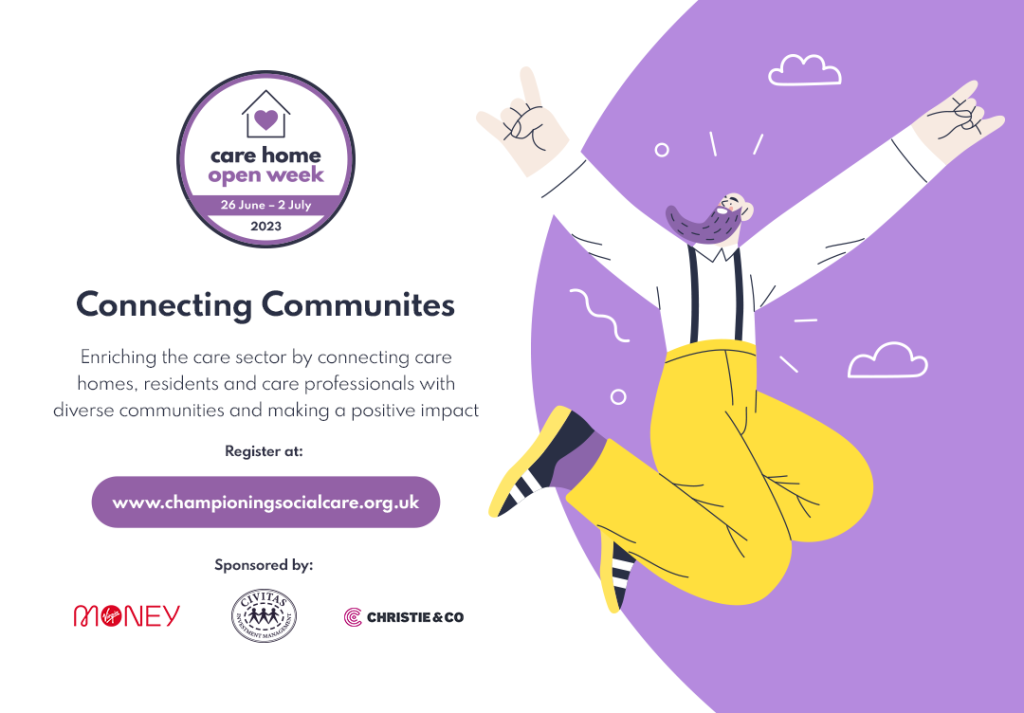 The resources also include graphics and social media to help care homes promote their events and an interactive map to help communities find events that are going on in their local area.
Over 4,000 homes across the country have registered to participate in Care Home Open Week 2023 and over 115 MPs are already planning visits to local care homes.
To celebrate the length and breadth of care homes across the country participating in Care Home Open Week, the inaugural 'Great British Care Cycle Relay' will travel from the North to the South, visiting care homes along the way that are at the heart of each community across the country.
Registration to participate is now live at the following link: https://www.championingsocialcare.org.uk/care-home-open-day/great-british-care-cycle-relay-2023/
Care Home Open Week will kick off the week with a launch event on Monday, 26 June to celebrate the many care homes supporting communities across the country, with partners and MPs expected to join. The highlight will include a performance by the winners of this year's 'Care Sector's Got Talent'.
Championing Social Care is pleased to be working with headline partners Virgin Money, Civitas Investment Management, and Christie & Co, as well as several other partners including NAPA, NCF, Music For Dementia, Eden Project, HC-One, The Caring Times – Care Managers Show, Scottish Care and APPG.
Mitesh Dhanak, chair of the organising committee of Championing Social Care and founder of Precious Homes, said: "We're delighted with the enthusiasm we've seen from care homes so far to participate in this year's Care Home Open Week. We hope that care homes will find this new set of tools helpful, and that they will inspire them with new ways to promote the exciting events that are taking place within their own care homes.
"This year's Care Home Open Week aims to connect communities and it's our ambition that different sections of society will come together during this week. We're grateful to our headline sponsors for their continued support and guidance in helping us make this happen."
Interested participants can register for Care Home Open Week 2023 or learn more by visiting https://championingsocialcare.org.uk