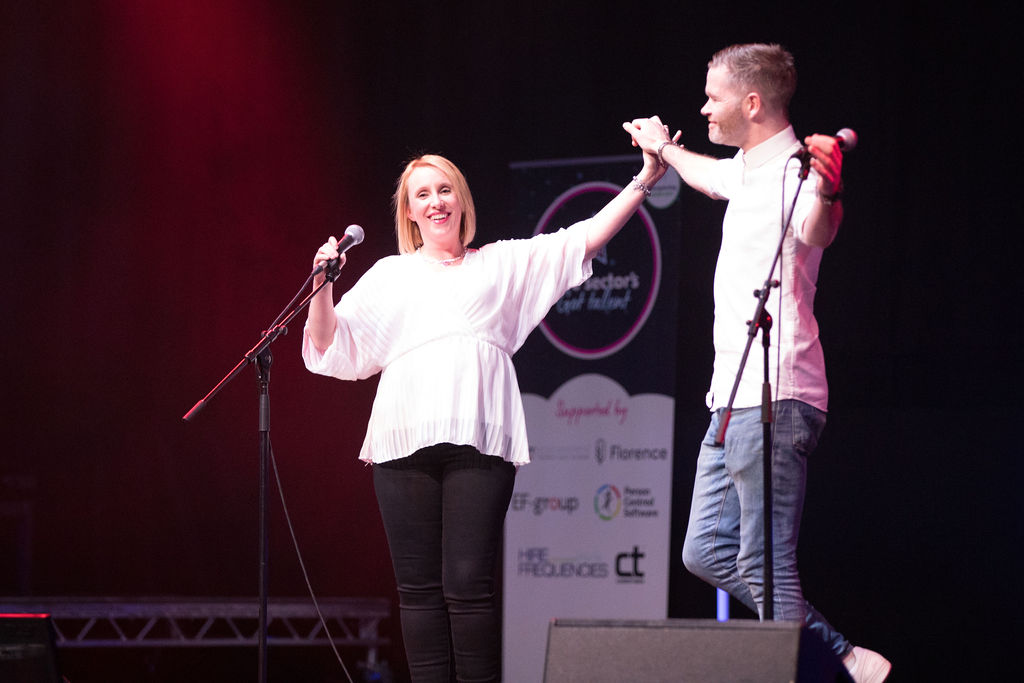 Glasgow's singing duo, Michael and Charlene, sparkled the care sector by wowing the judges and audience with a powerful singing performance!
Thursday 20th April saw Championing Social Care's Care Sector's Got Talent return for its stunning LIVE final! Held at the incredible Derby Arena in Derby, eight extremely talented care professionals performed live in front of an illustrious panel of specially selected sector judges, and hundreds of audience members cheering for them, for the chance to be crowned the Winner of Care Sector's Got Talent 2023!
Care Sector's Got Talent 2023 ended up being a highly-contested competition, but in the end Senior Care Assistant Charlene Reeves, and Wellbeing Co-ordinator Michael Gallagher of Hill View Care Home in Glasgow – AKA Lady Gaga and Bradley Cooper! – took the crown. The winners enamoured the audience with their rendition of Shallow. One of the judges, Anchor's Managing Director for Care Services Rob Martin, was almost brought to tears by their performance.
This years' Winners, Michael and Charlene shared on stage, "The talent showcased and the care sector coming together to cheer us all shows that the care sector in the UK is phenomenal! We were both very nervous before the competition but we thoroughly enjoyed performing on the stage. There were so many amazing acts and we are honoured to be taking the title of winner back home with us."
The Talent show was opened by Sarabdeep Singh, Care Sector's Got Talent 2022 winner, who mesmerised the audience by delivering an electrifying performance. Read Sarabdeep's story, and inspiration to dance here.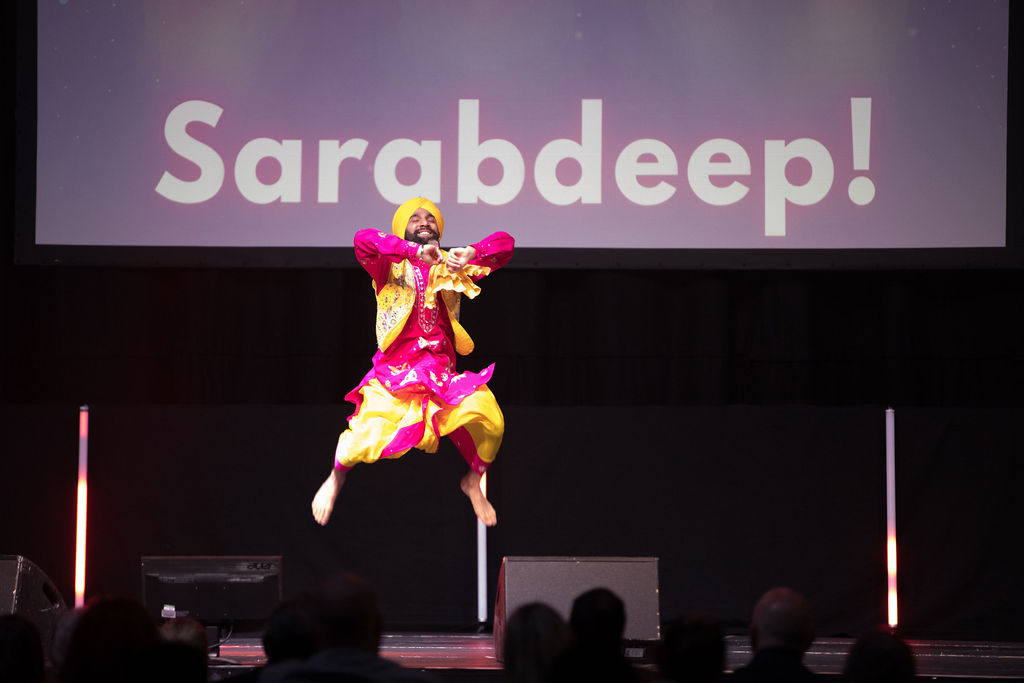 Care Sector's Got Talent has a vision to unite the social care sector and shine a light on the incredible talent of people who work and live within the sector. From pianists to singers and dancers, the talented finalists from across the UK gave incredible performances demonstrating both their passion for care and the diversity of talent in the sector.
Angela Boxall, Host of the live final and Chair of the Care Sector's Got Talent committee, commented: "Last year's Care Sector's Got Talent felt incredibly special, but the joy of the LIVE final this year in a grand venue really allowed the acts and sector to sparkle. Michael and Charlene absolutely wowed our audience and judges who commented on how they sing from their hearts and souls! Just wonderful to have experienced this day that sparkles all of the social care sector!
It's been a true honour and privilege to get to know this year's contestants and leading on the initiative along with the support of so many amazing people in the sector. We are part of a very special sector filled with talented and gifted people, I'm already excited for next year's competition!"
Jonathan Freeman, Vice-Chair of Championing Social Care commented "Care Sector's Got Talent is an amazing initiative with an important mission of showcasing the diverse talent within the sector, and clearly demonstrates the many benefits of bringing everyone together on a unique platform. The Championing Social Care team is proud to support many talented care professionals and residents of care homes, across the four home nations of the UK."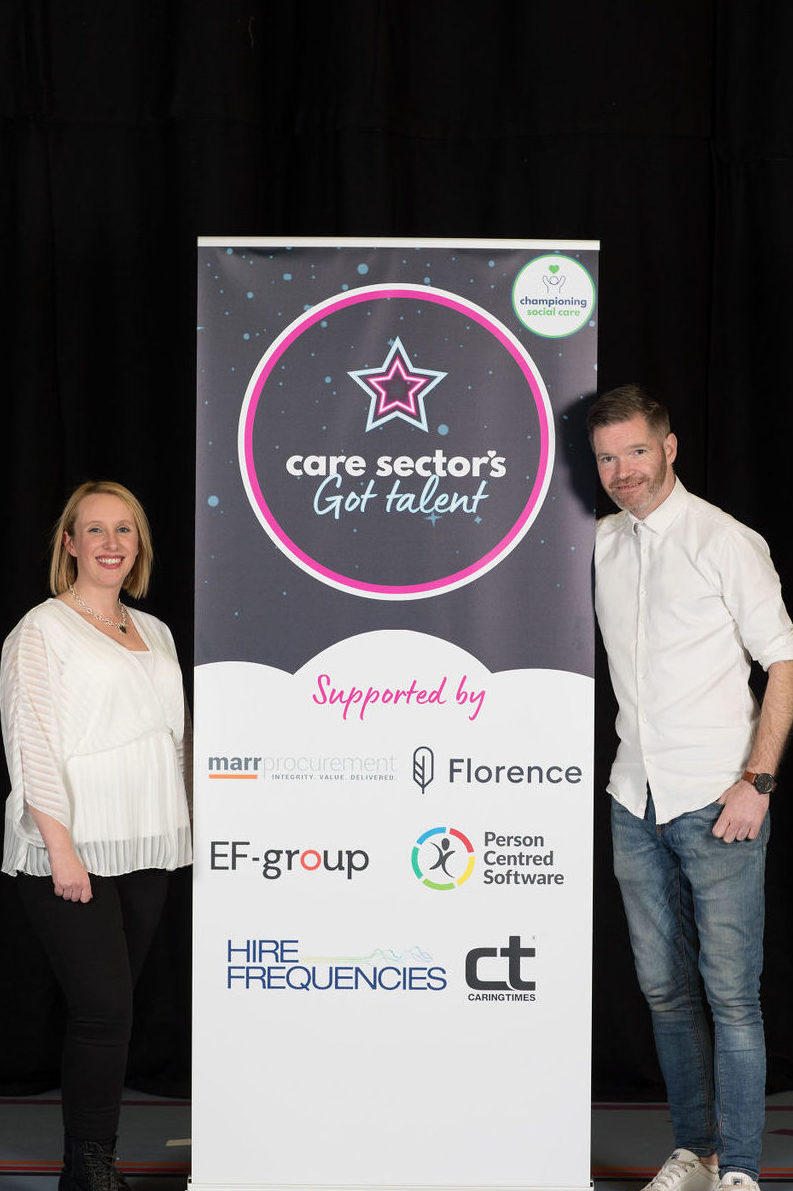 When Michael and Charlene were announced as winners, it prompted an emotional response from the talented duo. Charlene, a healthcare assistant, added: "I've been in care for 10 years and it's a job I absolutely love. It's very challenging but also very rewarding. Performing in the final was an amazing experience, they made us feel like superstars and we want to do it all again!"
The Finalists of Care Sector's Got Talent 2023 – Helena Maskell, Frances Gray, Kayleigh Morgan and Craig Smith showcased exceptional singing. Paul Bekamba and Robert Speker, played the piano, whilst Dost, Mahesh, Dhiya, and Angeca delivered a captivating dance performance. All shortlisted acts and performed incredibly on the day, demonstrating the diversity of talent in the sector.
Winning a £500 Love to Shop voucher, along with an Alexa Echo 5, proud winners Michael and Charlene took back home with them a lot of sparkle from the social care sector!
This special event is sponsored by Florence, Marr Procurement, Person Centred Software and EF-Group, along with very generous support from Hire Frequencies, Caring Times and The Caring View. The LIVE Final event was graciously supported by, Paul Carter Electricians; Brent's Insurance; Advanced Fire Protection; Heatlink Lloyds Carpets; and Hamilton Deed, who provided much-needed help to the logistics of the event. All the key partners and supporters of Care Sector's Got Talent have collectively helped with financial aid and brought in a range of specialist business knowledge to the initiative.
Learn more about Care Sector's Got Talent and watch the full live final stream by visiting https://www.championingsocialcare.org.uk/care-sectors-got-talent/