This blog is written by Lily Patrick, People Team Lead, Majesticare Luxury Care Homes.
Care Sector's Got Talent is back with a bang for 2023, and seeking the wonderful talent in the social care sector. With such a fabulous impact of the 2022 Care Sector's Got Talent Live finale, we are back, bigger and better than ever before!
We were thrilled to see so much talent already flooding the doors when auditions opened on 7th February 2023. We know how much talent our sector holds, and that it often flies under the radar, that's why this year's mission is to reach as many people in the Care Sector as we can, and showcase their amazing talents. Last year's winner, Sarabdeep Singh, was propelled into the lime light after his energetic, upbeat performance of traditional Punjabi (North Indian region) dancing, alongside seven talented finalists at the Blue Orange Theatre in Birmingham. We caught up with Sarabdeep and asked him, "What made you enter Care Sector's Got Talent?" and he replied, "I entered because it's one of my passions, my strongest interest, and I was excited to showcase my talent to everyone". Read his story documented by Caring Times, here.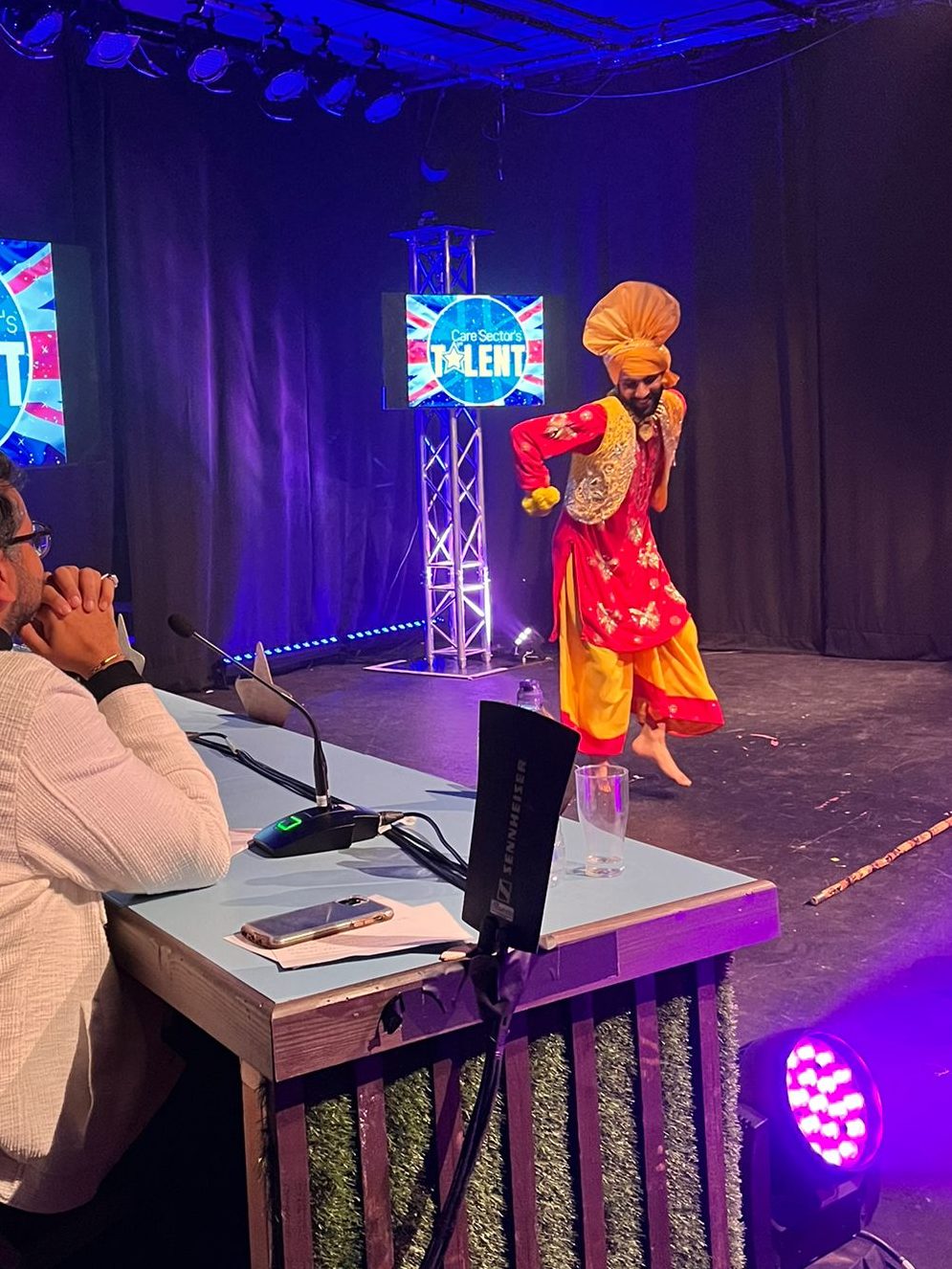 Care Sector's Got Talent's mission is to celebrate the talent within our sector, and promote positive wellbeing by unleashing your talents! By exposing your talent to the world, you are making a great contribution to your wellbeing, by doing something you love, whilst also contributing to the wellbeing of those you express your talent to; as the famous saying goes, "Your talent is your gift. What you do with your talent is your gift back to the society."
Care Sector's Got Talent is your platform to shine on and gift the world the grace of your talent. Take that leap of faith and believe in yourself to send in that audition video, as we can guarantee your talent will contribute to making not only your day, but somebody else's too. Watching talent cultivates happiness which our 1500 viewers, from last year's live final, will agree with!
Care Sector's Got Talent is not only a competition, it is here to contribute towards a positive mindset and attitude, bringing you a strong sense of identity and accomplishment by providing a platform to express yourself. Every individual is unique, and your own talents contribute towards this.
Finding your purpose can be tricky and sometimes even challenging, but by identifying your talent and showcasing it, you will quickly begin to fit that talent into everyday life, providing you with purpose and contentment. Humans long for a sense of purpose and identifying your talent allows us to understand our own purpose.
"Talents aren't meant to be hidden; they are there to fuel your soul".
Care Sector's Got Talent is vitally important to the sector as it provides a unique platform to celebrate the amazing talents of the people who live and work in social care, who have a proven track record of being fabulous performers and entertainers. Far too many times the care sector has been deemed an "unskilled workforce" when in fact the sector is full of hidden talent and creativity, join us in showcasing all the natural talent, skills and creativity the care sector holds and more importantly have fun together to make memories of a lifetime.
We've shared our mission to showcase the phenomenal talent of the Care Sector but ultimately, we're here to have fun, laugh and make new lasting friendships, whilst highlighting our charismatic, unique, naturally talented workforce we hold within the sector!
This year's final will take place at Derby Arena on Thursday, 20th April and the entry is free! Book your tickets now! Most importantly, don't forget to submit your entry by Sunday, 19th March.

If you have a talent you want to share, or maybe you know someone with a secret talent and they aren't confident enough to enter, be their cheerleader and encourage them, we are all working to the same objectives after all. Let's lift each other up and unleash the care sector's talents' on the world! #CSGT
Apply now >>> Care Sector's Got Talent • Championing Social Care