By Morten Mathiesen, SMO, Sekoia
Care Home Open Week takes place annually, and in 2022 is from 27 June to 1 July, it's back with a mixture of events taking place both within care homes, and on virtual platforms.
If you've got family, or friends, already living in care homes you can enjoy the activities of the open week together. They often involve music, tea and cake, and may also include handicrafts or talks aimed at the interests of residents. It's a great opportunity to share time together, something we've all missed so much during the last two years.
The annual Care Home Open Week is fast approaching. Set to connect care homes across the country with their community it's usually a week filled with fun and laughs, with the week's goal to come together as a community. Care Home Open Week begins on June 27th and ends on July 3rd.
In a time where isolation and shielding have become a regular part of our vocabulary, it's a welcome distraction. Government guidelines permitting the goal is that this year's edition will be a hybrid with both in-person and online opportunities.  
Care Home Open Week is the time to show, and perhaps remind, people that care homes provide excellent care and connection with their local communities.
Who is Participating?
Care Home Open Week is for all those providing care services. A few of the types of services participating are:
Elderly Care Homes
Learning Disability Services
People living with dementia
Supported Living Services
To name a few
Why are they Participating?
It's no secret that life in a care home is busy. Most homes are currently experiencing significant staff shortages so why are they choosing to take part in the Care Home Open Week?
Care services will be using the week to:
Promote their services to potential new residents
Promote job listings etc.
Engage with the local community and attract volunteers
And it works.
At least according to the homes themselves. 85.7% of participating homes said they felt the event helped promote their home. And 71.4% felt a greater community engagement.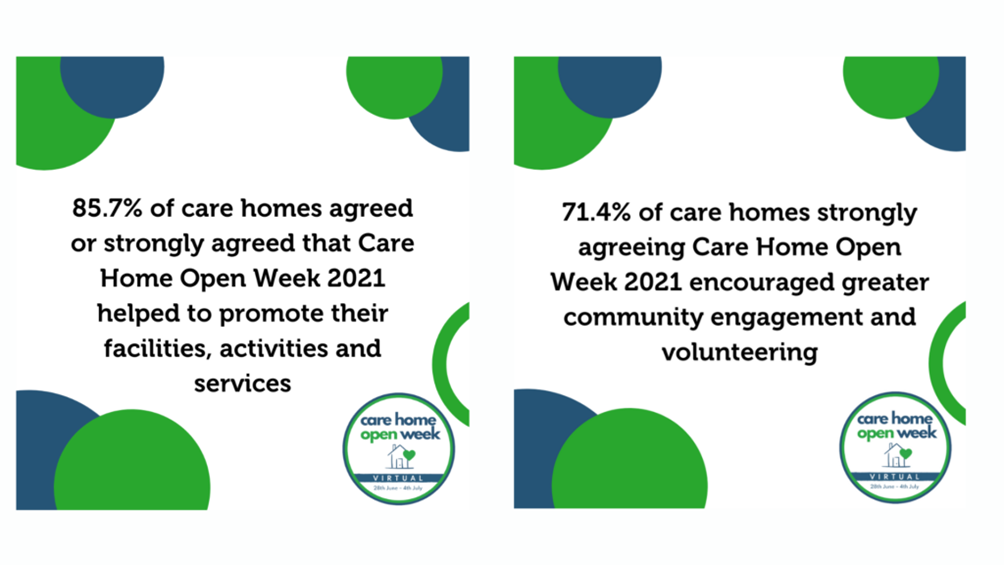 Why should suppliers get involved?
As suppliers, we need to be involved in the sector events. Not just the fancy award shows and dinners. The Care Home Open Week is an ideal chance to get involved. Suppliers are an important part of the care homes. Whether you're supplying catering, cleaning, or digital care planning. We're part of the sector – when there's cause for celebration and when there's cause for tears.
3 ways suppliers can get involved
There are several ways to get involved in the week. Here are three of our favourites:
Spotlight homes participating
A good way to get involved is to support your customers who are already participating. You can feature them in your newsletter or social channels. Or take it a step further and go visit them – in person or virtually.
Other suggestions could be to send a good luck card or a gift basket to the home as a way of showing recognition for the cause.
If you want to incentivise your customers to participate, you can also offer a special discount for participating homes.
If you have a close relationship with your customer and they are active on social media you could suggest a social media takeover. A social media takeover is when you grant posting privileges to a person of interest, like an influencer, expert, or professional, in this case an incredible care team!
It's a great way to increase the home's social media presence as some of your followers will likely share similar interests. Hopefully leading to more followers, likes, and shares.
You can also consider doing a behind-the-scenes video of a home participating in the Care Home Open Week. Or do a "Day in the life of"-style content where you show how a day looks for care staff, managers or even a resident!
Arrange a special surprise at a care home
If you want a participating customer to feel special, consider arranging a special treat. It could be a barista going to the care home to serve delicious coffee. Or an ice cream truck to combat the July sun.
At Sekoia, we practice what we preach. We have previously arranged a hot dog stand to serve the residents, relatives, and staff members of one of our customers. Feel free to steal that idea, it worked like a delicious treat!
To find a local home participating in Care Home Open Week, search here!