Chair of Care England and Hallmark Care Homes, I Avnish Goyal has received a CBE for his services to social care and philanthropy in her Majesty's birthday honour's list.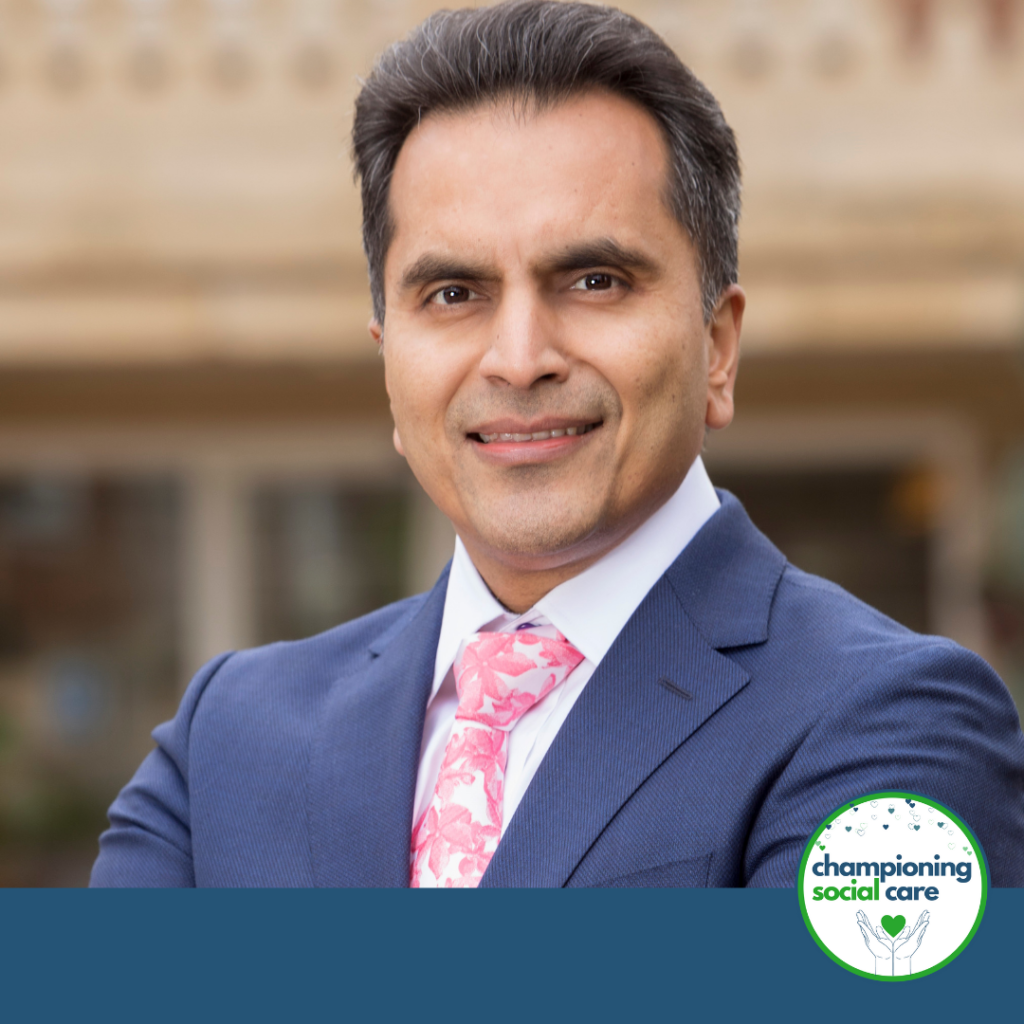 Avnish, founder of multi-award-winning care provider Hallmark Care Homes, received the national honour for his work during the pandemic with the largest representative body for social care, Care England, The Care Workers Charity and volunteer-led initiative; Championing Social Care.
Avnish started his career in care in 1997, and became Chair of Care England in 2015. Since his appointment, he has supported the sector in various initiatives such as campaigning for better funding for social care and the appointment of a commissioner for older people.
He helped found The Care Workers Charity nearly 12 years ago, of which he is now a patron to provide financial care and professional support to care workers. In 2021, the Hallmark Care Homes Foundation which he chairs gave a three-year grant of £78,000 to support The Care Worker's Charity's mental health support service which enables care workers to access free counselling. He helped set up and is chair of Championing Social Care, which seeks to shine a light on the great work of the social care workforce through a series of annual events.
In 2018, he established the Care Sector Fundraising Ball, which is the only dedicated fundraising event for the sector. The sell-out event to date has raised £348,000 for care charities and the black-tie fundraiser returns this September 24th at the Grosvenor House Hotel in Park Lane, London.
Avnish Goyal said: "I'm deeply humbled to be recognised by her Majesty, the Queen in her special platinum jubilee year for my work in social care and philanthropy as we celebrate our own silver jubilee for Hallmark Care Homes.  I joined the sector because I wanted to make a difference and I knew I had something to offer. Over that time, I've worked hard, with my brothers, to establish a care company we can be proud of by delivering high-quality care to residents in beautifully designed award-winning care homes and driving quality and care standards in the sector. I have enjoyed working with Care England and numerous charities which support and promote our caring and committed workforce. I'm delighted that my work has been recognised at the highest level. I know that this honour will act as a further catalyst to take my work in social care and philanthropy to the next level."
Martin Green, Chief Executive of Care England, said: "In his role as Chair of Care England, and through the high-quality services provided by Hallmark Care Homes, Avnish Goyal has made an outstanding contribution to the care sector and he has always been a powerful advocate for high-quality care and innovations that improve people's lives. Avnish 's contribution to society goes far beyond his work in care, and through his philanthropy, in the UK and internationally, through his work with the Hemraj Goyal Foundation he has transformed the lives of thousands of people. Everyone at Care England, and throughout the care sector, will congratulate Avnish on his well-deserved appointment as a CBE."
Karolina Gerlich, Chief Executive Officer of The Care Workers Charity said: "I'd like to say a huge congratulations to Avnish for his well-deserved award. We thoroughly appreciate all the support Avnish and Hallmark Care Homes' Foundation have provided in raising awareness and grant giving to the Care Workers Charity. It's important to Avnish that he leads by example and gives back to the sector that he works in and we really respect this about him."
Stephen Burke, Chief Executive Officer of Hallmark Care Homes Foundation and Hemraj Goyal Foundation said: "Avnish's honour is richly deserved for his tireless support for charities: Avnish firmly believes in giving back and has an outstanding track record of running not just great care homes but also giving millions of pounds and thousands of hours to charities. Avnish has created two charitable foundations supporting people of all ages and has set up several pioneering partnerships to promote care and support care workers. Together with his wife Anita, Avnish has raised awareness of dementia as an ambassador for the Alzheimer's Society and raised hundreds of thousands of pounds for both the Alzheimer's Society and the Care Workers Charity through the annual Care Sector Fundraising Ball. But his work has not finished. Avnish and Anita, have big ambitions for the Hemraj Goyal Foundation's workshops with schools in disadvantaged communities promoting positive mindsets and life skills for more young people. And the Hallmark Foundation is working to enable everyone to age well through its support for innovation, research and charities."
---